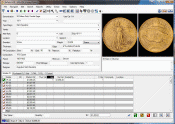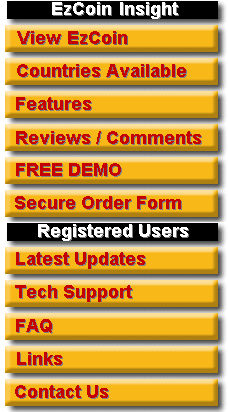 USA 2014 and Canada 2014 Editions Available Now!
EzCoin is an easy to use & comprehensive coin inventory program. Our databases are the most comprehensive and accurate available. Reliable current market values are pre-supplied with all databases, so you can value your coin collection. Our USA database has over 6,100 coins listed with over 1,900 images supplied. Over 3,230 coins are listed in our Canada coin database, with over 3,410 Color Images included on CD.
EzCoin is fully licensed to use, incorporate and cross reference to the industry standard PCGS Numbering System.
All pertinent coin information is provided for each coin so you don't have to enter it. Packed with features not found in any other coin software.
Includes values for many grades for each coin. Keep track of your coins plus your purchase & selling information.
Add any varieties not in the database, plus track coins from ANY country including Topical Coin Collections!
Powerful Search capabilities to find your coins quickly. Our unique Thumbnail Viewer allows you to search and view your coins by image. With our Power Search feature, you can locate any coin by any criteria you choose. Search by year, description, value or any combination !
Easy to read reports in spreadsheet format and view your reports with the coin images as well. WANT Lists, Inventory & Valuation reports are just a click away! Our reports are unsurpassed in their flexibility. No other software is required to produce reports in EzCoin. Other software requires you to have programming knowledge and MS access to create reports. Not with EzCoin! Everything is built in.
Great for insurance purposes as well as keeping track of what you have and don't have.
Easily track all your coins in multiple grades with current, accurate coin values built into EzCoin
Use our unique Rapid Entry feature to quickly inventory a range of coins. No need to enter each coin one by one.
Comprehensive manual to guide you if needed. Fast, friendly, unsurpassed technical support hotline via phone or email.
Join the thousands who use our software to track and manage their collections. Compare to other programs & see why EzCoin is the number one best selling coin collecting software program worldwide!
USA 2014 & Canada 2014 editions are Now Shipping. Order now & start organizing your coin collection today!
EzCoin can help you ORGANIZE your collection now!
Is your coin collection in Disarray ?
Do you know what you have or don't have?.
Do you know the value of your collection?
Tired of wasting time trying to find your coins?
Need an inventory for Insurance purposes?
With EzCoin, the chore of valuing & inventorying your collection is made easy. Our powerful reports let you view your collection in many ways. Accurate valuations at a glance !
Let EzCoin help you Organize your collection. You can use it as a digital catalog as well !
It's easy, accurate, fun & it's fast.
Coin Collecting Software the way it should be!

Training Video