How Do I Change the StartUp path for PCVU ?
When you run PCVU for the first time, the default source path will be the Windows installation directory, and the target path will be blank (undefined). To set a startup path, right click anywhere in the path information panel of the main PCVU window. From the popup menu that appears, select the menu item Startup Path and the sub-item Assign. You can also change the startup path using the PCVU preferences.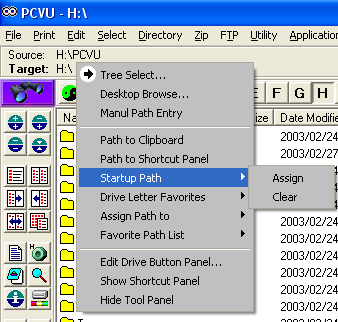 I go to the same folder on my hard disk often. Is there a way to set this path so I don't have to navigate to it each time ?
Sure! Quick path lists were created just for this purpose. Quick paths are accessed from the drive button panel above the source and target views. A quick list represents a set of one to 12 of your favorite paths, organized in a convenient popup menu that is accessible by clicking on the quick list button above the source and target views. Menu options are provided to allow you add to and edit the contents of a quick list.